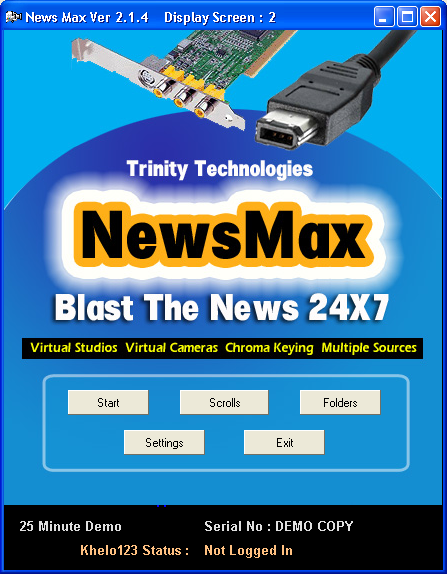 News Max 3 is Trinity's new software that has been released keeping in mind the needs of Local News Channels that are run by Cable TV Networks. With News Max you can run professional looking news channels with input from upto 4 cameras along with Realtime Previews! You can display windows showing reporters from various places, design your own layout backgrounds using Photoshop.
DEMO VIDEO
Breaking News, Top Flaps, News Lines all possible wit News Max
Whatsapp on 9821048866 to purchase.
MAIN FEATURES
Show up to 4 Video Inputs from AV /HDMI Camera / RTSP IP
Design your own layouts in Flash or Photoshop with Live Preview of 4 Cameras! Click and Select an input to display on output
On the Fly online editing - No need of experts! PIP, 4 Windows, 2 Windows, 3 Windows Layout display possible alond with Repeated Video Clipping
Online Channel Player - Make changes in the playlist when the broadcast is On-Air!
Plays News Vide Files at exact time - Program in advance
Breaking News with Animation and dynamic text - Supports SWF files
Top News Flaps in animation with dynamic text
Unlimited Folders option, Set categories for each Filler gap
Monitor Channel Output in a small window without extra display
Display news based messages, Captions and Video Based logos
Supports 4 SWF/GIF/BMP/PNG/TGA Logos - Fixed and Time Based
Flash 4 Emergency scrolls with mixed color and custom background any where on the screen
Continue News segments in case of power failures from Point of Halt
Keep logs of all news videos and ads played in text files
HARDWARE REQUIREMENTS (MINIMUM)
Operating System : Windows 10
Processor : Core i5 - 5th Generation Series
Motherboard : Gigabyte or Asus - Please check the availability of USB ports and PCI and PCI Express slots for capture cards
Memory RAM: 8 GB
Hard Disk Drive : 2 TB
Input cards for Live: BlackMagic Intensity Pro 4k
Output Card : BlackMagic Intensity Pro 4k or AMD Radeon Series HDMI Graphic Cards.
LICENSE
News Max comes with a USB hardware dongle. You can try News Max for FREE, except that there will be a "DEMO" watermark in output video. You may purchase to remove it and use full features.
The purchased license is lifetime and can be used to play the software on 1 PC. Optional AMC can be purchased after 1 year of free support.